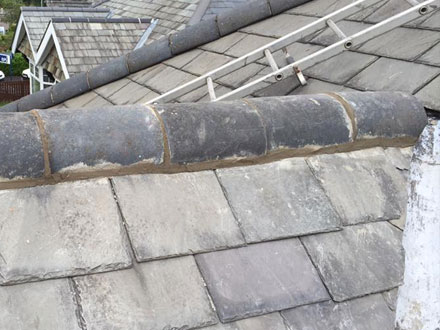 The roof is one of the largest external facing surfaces in your house. It is your first line of defence against the elements and a shield from noise. Roofs come in many different shapes and materials. Tiles is a popular architectural choice for many homes because of its reputation as a durable roof covering. Tiled roofs may have a life span of 20 to 50 years but there is no such thing as a maintenance-free roof covering. Time, and the elements will eventually wear it down. But regular maintenance from National Capital Roofing can help preserve its integrity and look, and save you money from expensive roof replacement costs later on.
What is ridge capping?
Tiled roofs have ridge capping. Ridge capping covers the ridge or the highest point where two roof surfaces meet (the inverted 'V' at the top and the sloping sides of your roof). Ridge capping hides the ugly gap between the roof surfaces and acts as a weatherproofing seal to prevent rain from seeping into your house. Ridge capping is held down by a mortar 'bed' (a mixture of sand and cement). Pointing blends the ridge capping with the colour of the tiles to create a seamless match.
Unfortunately, the mortar bedding and pointing can deteriorate with time. Wind, rain, sun and fluctuating temperatures force the frame of the house to constantly contract and expand. Weight from the tiles and the earth's gravity further exacerbate the situation.
Why is ridge capping important in roof maintenance?
Over time, the mortar bedding that holds the ridge capping together becomes loose and unstable. Cracks will appear and eventually, some of the ridge capping's will dislodge and slide off the roof. A compromised ridge capping is no longer weatherproof. Water can seep in through the cracks every time it rains. This water pools underneath the ridge capping and eventually flows into the ceiling causing damage to the rest of your house.
Furthermore, a broken ridge capping exposes the gaps between the roof. This makes your roof look ugly and unsightly from the street.
What can you do?
National Capital Roofing has a solution for your ridge capping problems. We believe the secret to good roof maintenance is to regularly check and repair the ridge capping well before the threat of a water leak becomes a problem. Ridge capping, re-capping, and re-pointing are essential if you want to maintain the integrity and stability of your roof's seal. Regular ridge capping maintenance can prevent expensive costs in replacing entire roofs. It can also ensure that your roof remains well-presented, all the time.
Ridge capping is not a DIY project. It is a delicate job that requires the trained eye and precision accuracy of a roofing specialist like NCR. We are highly-trained and professionally licensed and can manage even the most complex roof systems. Using National Capital Roofing will guarantee you quality work at reasonable rates. Make the right decision today to ensure optimum performance of your home. A well-maintained roof gives you peace of mind and helps you save money.
Call us now on 0407 212 491.